Thermal package
Thermal break in a thermal spa with water relaxation, swimming and activities in the nature.
BOOK NOW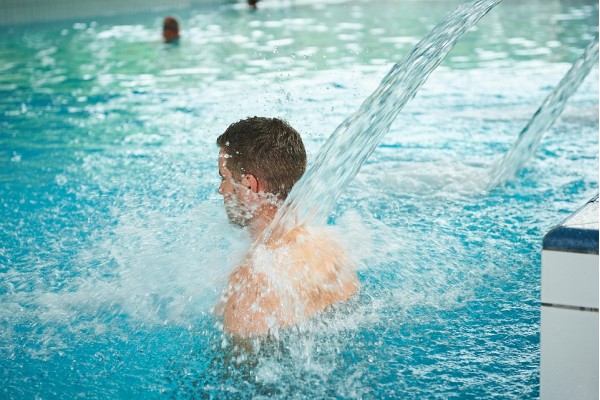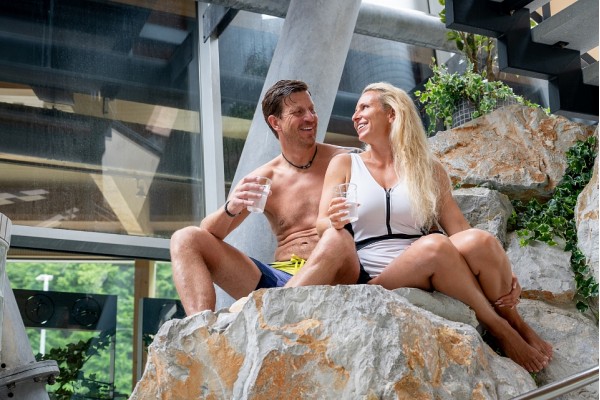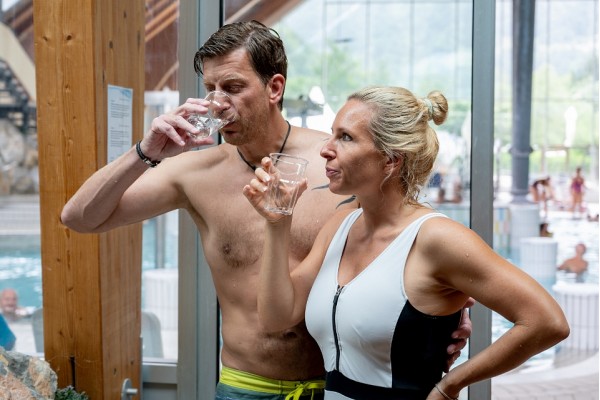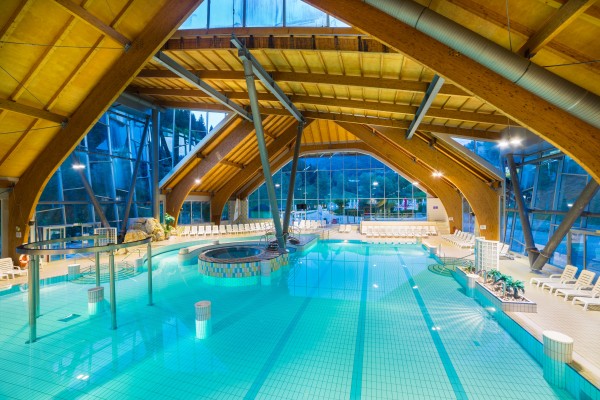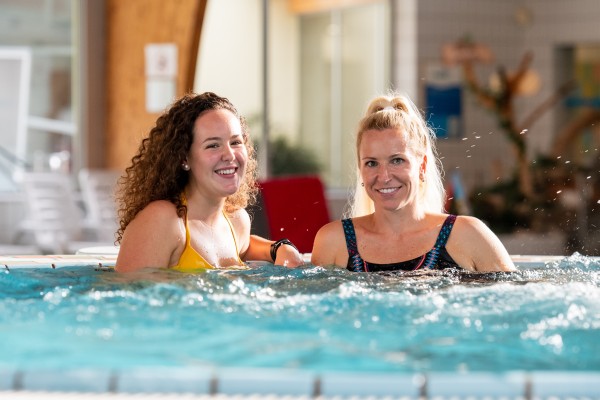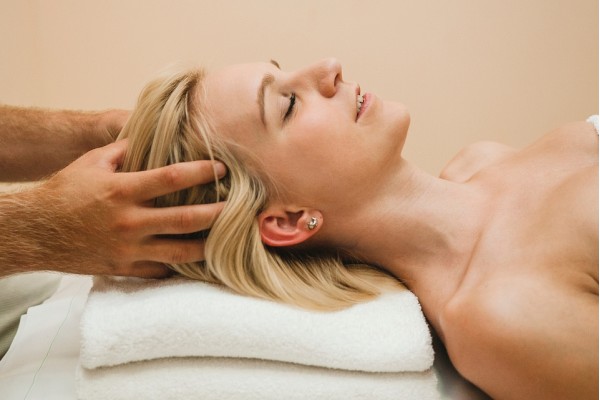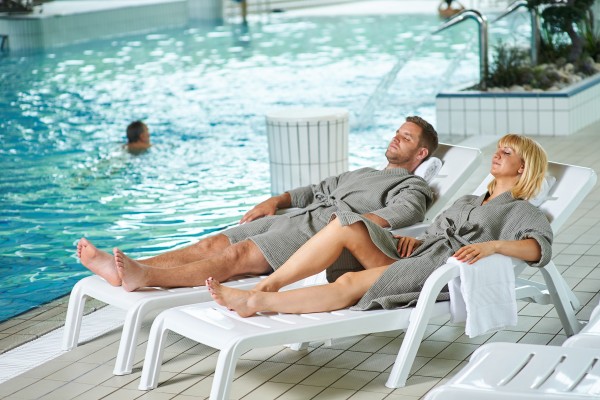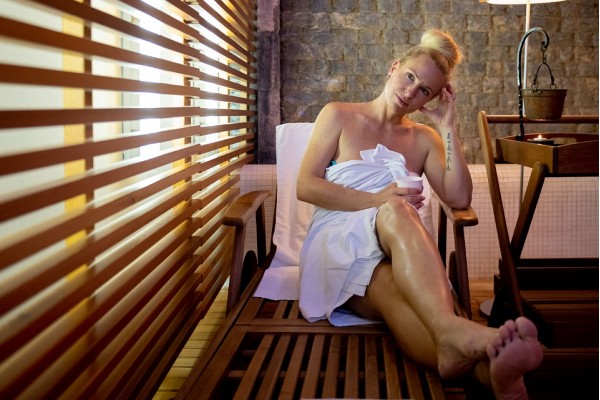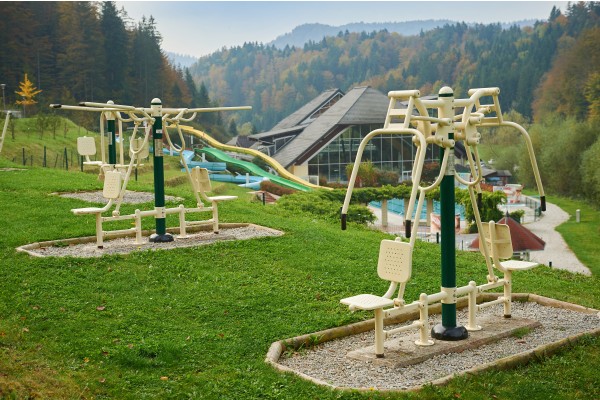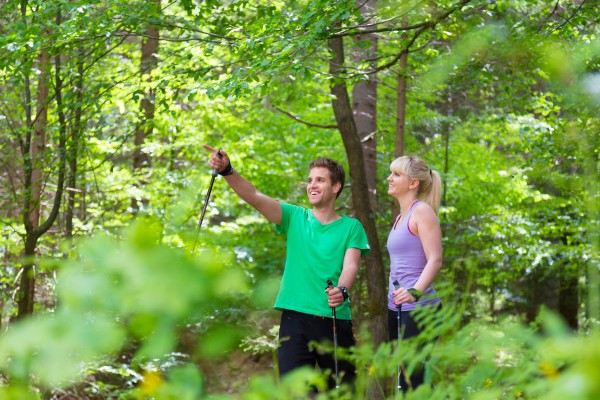 Thermal package
Thermal break in a thermal spa with water relaxation, swimming and activities in the nature.
BOOK NOW
The thermal water in Snovik is a source of health. It is a natural remedy rich in calcium, magnesium, sodium, potassium and other beneficial minerals that have a beneficial effect on bones, skin and digestion.
In the beautiful Tuhinj valley, you will breathe fresh air in the embrace of green forests and the sunlight peaks of the mountains. You will bathe and splash in the healing water and your children will slide on the slides. You will walk around the green surroundings. Even more healthy and relaxing will be to set out on one of Kneipp's barefoot trails. You will enjoy healthy food prepared from local ingredients in one of our restaurants. Of course, you will be able to spice up your meals with many healing and delicious herbs from our herb garden. You will not be bored. There are many children's playgrounds and outdoor fitness facilities. Do you wake up with yoga or stretching? Green clearings about the forest, right next to your holiday homes, are waiting for you. There are 12 cycling and 8 hiking trails ready for you. You can rent Nordic poles for free; you can also rent bikes from us. The Volčji potok Arboretum is in flowers and greenery for you. The nearby Velika planina and Menina planina are waiting to discover. You can spend your vacation in solitude, but if you like to see something, here are old Kamnik and only 30 km away Ljubljana.
At Terme Snovik you will spend your holiday relaxed, calm, in a healthy and safe environment.
Package from € 81.00 / person / night includes:
Half board in a room, studio or apartment

Unlimited entrance to indoor and outdoor swimming pools (outdoor pools are open from mid-June to mid-September)

Daily Kneipp watery body wraps

Guided group water exercise

Night swimming on Wednesdays, Fridays and Saturdays

1 x entrance daily to World of Sauna

10 % discount on wellness services

Use of outdoor gym and trim track

Various activities according to the daily animation program and special holiday program such as Easter bunny hunt, coloring Easter eggs, creative workshops etc

Slovenian dinner with traditional local tastes on Saturdays

Drinking healing thermal water

Parking spot

Wi-Fi

VAT
Minimum number of nights: 2 nights
SUPPLEMENTS: * Lunch or dinner: €18 (children 0 - 3.99 years free, children 4 - 11.99 years 50% discount) * Room or studio - one person in accommodation: €30 / night * Room or studio: 1 adult + 1 child up to 3.99 years: Adult surcharge €30 / night, child has free of charge * 2 persons in apartment A4 (2 + 2): €20 / apartment / night * Room with balcony: €10 / room / night * Baby cot: €15 / night * Extra bed in apartment: €25 / night (for children up to 9.99 years) * Pet: €12 / night * Sauna: € 9 - 11 / entrance * Bathrobe: €7 / person / rental time * Bath towel: €5 / towel / rental time
DISCOUNTS (at the price per person): Room or studio: Child 0 - 3.99 years: 100 % (without own bed) * Apartment A4 and A5: Child 0 - 3.99 years as the only child in the apartment = 50 % * Apartment A4 and A5: Child 0 - 3.99 years as the 2nd or 3rd child in the apartment = 100 % * Apartment A4 and A5: Child 4 - 11.99 years = 50 % * Discount for bed and breakfast (deduction for dinner) = €5 / adult
Tourist tax: Adults: €2.50 / night, children 7 - 17.99 years: € 1.25 / night. Registration fee: €2.00 / once, children up to 6.99 years do not pay the registration fee. Other information: Towels are changed every 3 days * Bed linen is changed every 7 days.
CANCELLATION POLICY: For cancellations 7 days or less before arrival we charge 100 % of the reservation value!
CHECK IN: season A and B: 14:00, season C: 15:00; CHECK OUT: season A in B: 10:00, season C: 10:00.
Season A: 4.1. – 27.1., 13.2. - 20.2., 06.03. – 24.4., 06.11. – 23.12.
Season B: 28.1. - 12.2., 21.2. - 5.3., 3.5. - 23.6., 4.9. - 27.10.
Season C: 25.04. – 2.5., 24.6. – 3.9., 28.10. – 5.11., 24.12. – 02.01.2024
Package is valid from 1.1.2023.
Our sales team will prepare an offer for your unforgettable stay in the embrace of the forests of the Tuhinj Valley. Submit an inquiry today.

Further information:
+386 1 83 44 100, 080 81 23

TOP family experiences in beautiful nature with a rich daily animation program. A place where everyone will find some special delights. The youngest child up to 11.99 years stays for free.
BOOK NOW

Book your next vacation in our spacious apartments. Bathing tickets and animation program included.
BOOK NOW