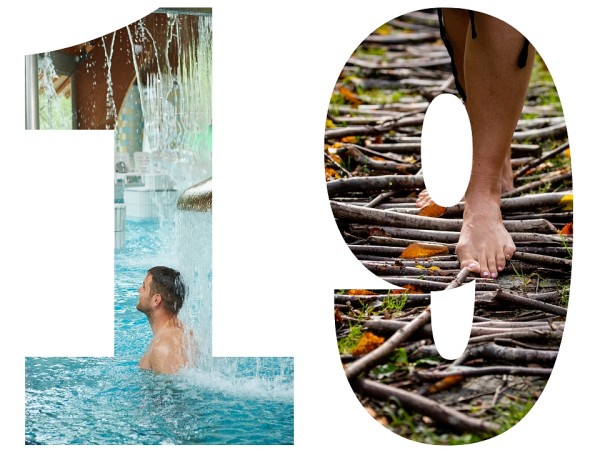 TOP 19 reasons to visit Terme Snovik in 2021
Time when health is important. It is the right time to discover destinations that will strengthen our health, surround us with new experiences, where wonderful memories and authentic experiences will be written. We will be relieved of our obligations and connected with unspoiled nature. We become researchers in the best company of our loved ones, family, partners, friends. Slovenia has so much to offer. Join us and discover the heart of the Kamnik-Savinja Alps, the Tuhinj Valley, where Terme Snovik lies. The highest lying spa in Slovenia. Meet your next destination to boost your health. For balance of body and mind by learning about Kneipp's philosophy of a healthy lifestyle.

#1
Get to know the energy of the nature of Tuhinj valley
In the embrace of forests where you can creates memories of the picturesque Kamnik-Savinja Alps.

#2
Healing thermal water
Become one with water. Enjoy in swimming and many hydrotherapies.

#3
Discover beautiful hills and mountains
Put your hiking shoes on and hit the road.

#4
Two-weels perspective
A paradise for bikers with many kilometres of biking roads.

#5
Take a walk and just admire. Shepherds. Flowers.
VIsit sherperds at Velika Planina. Smell the flowers at Arboretum Volčji Potok. Or just take a walk to the nearest forest and soak into it.

#6
Cheers. With a thermal water.
Have a glass of healing thermal water. Tap water is drinkable in our eco resort.

#7
Kneipp water wraps
Try also the Kneipp's water wraps with thermal water which will stimulate your skin.

#8
Relax your mind and body
Sauna, wellness, Kneipp treatments for a well-being.

#9
Spaceous apartmens
Above the thermal complex you will be staying in smart apartments to save the energy.

#10
Safe and careless stay
With Green&Safe certificat and very high higienic and safe standards.

#11
Cleanliness on each step
We are committed to high standards of cleanliness and protection to make you feel comfortable with us.

#12
Taste the love on the plates
Love. The secret ingredient we add to each plate. To spoil your palates.

#13
From garden to kitchen
Enjoy the local food with many herbs and also vegetable from our own garden.

#14
Bare feet walks around the valley
Feel the nature beneath your feet.

#15
Fun time with our dwarf Snoviček
Our dwarf is visiting us each regulary to meet the kids.

#16
Ready for trying something new?
Check our animation program and many workshops.

#17
Discover cultural heritage of city of Kamnik
Kamnik is one of the most beautiful medieval city in Slovenia.

#18
Sustainable policy
We act responsibly to our environment, guests, locals and employees.

#19
Committed employees
Ask our employees and get to know many local stories.

Take a first step and submit the inquiry to be able to enjoy our thermal experiences in Alpine forest.