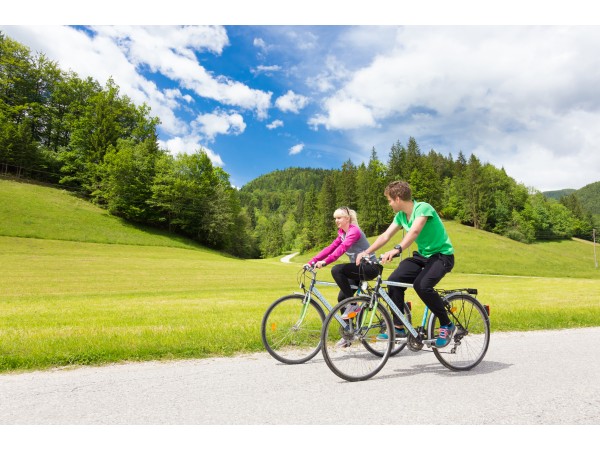 Cycling
Get a two-wheeled perspective on the Tuhinj valley and surrounding areas. There are plenty of routes which offer cycling terrains for families as well as terrains for those in search of more challenging cycling adventures.
The green oasis, just 30 kilometers from Ljubljana, near the old town of Kamnik, beneath Velika planina and Menina planina, boasts the highest-lying spa in Slovenia. Mountain trails and road climbs are so tempting from late spring to fall that you will not be able to resist cycling.
Take a look at the trails of as many as 10 cycling routes, of different lengths and complexity, which are the starting point of our Snovik Spa.
Cycling Routes Credits: IziMap
Bike Park Krvavec
Bike Park Krvavec with over 30 km Mountain Bike trails and biggest elevation drops among Bike Parks in Slovenia, offers rides for all tastes and levels of biking experiences. More information at www.bikeparkkrvavec.com.
You don't even need your bike, as you can rent one at Snovik Spa. Superb bikes, helmets and other cycling equipment are available, and our animators will tell you everything you need to know about biking in a beautiful, unspoiled environment where you will be welcomed by tourists' farms.
Rental prices
Bicycle rent: € 8,00 / hour
€ 14,00 / max 4 hours
€ 18,00 / 1 day
E-bike rent: € 12,00 / 1 hour
€ 24,00 / max 4 hours
€ 35,00 / 1 day
Bicycle helmet rent: € 1,50 € / 1 hour
2,00 € / do 4 ure
3,00 € / 1 dan
You can rent a bicycle at the reception desk one day before.